Our Mission is to Train, Equip, and Mobilize Catholics for the Urgent Work of Evangelization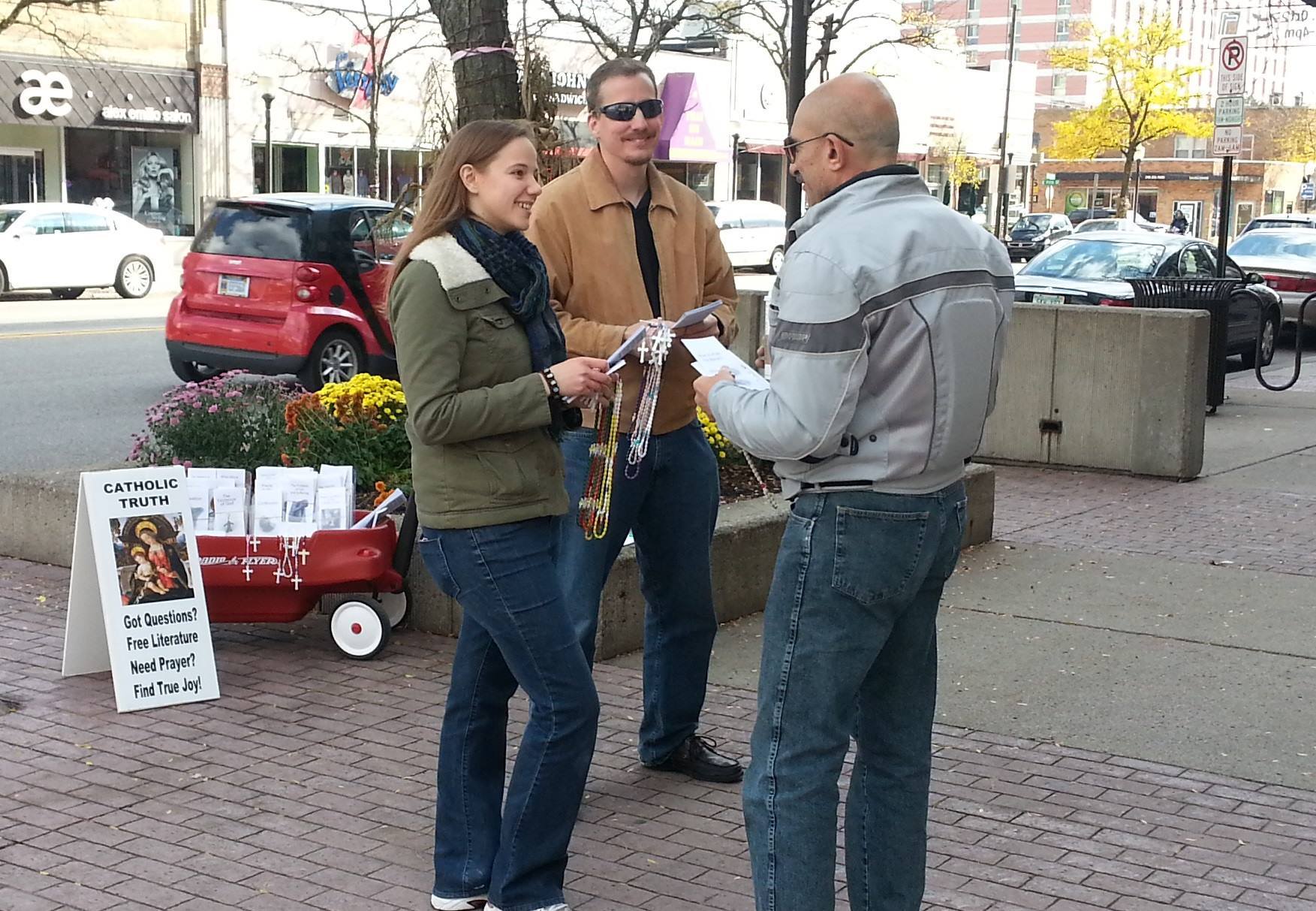 At the St. Paul Evangelization Institute we help train, equip, and mobilize Catholic Christians so that every person can become a fruitful evangelist. We do this by offering practical resources through our School of Evangelization, including online classes, an onsite school, downloadable evangelization resources, and an online store.
We provide training for Catholic organizations and individuals on how to share the faith. Our most popular training courses include Basic Evangelization Training, Healing in Evangelization Training, Youth Encounter Training, and Street Team Training. We also operate over 300 on-the-ground Catholic evangelization street teams, prayer station teams, and ask-a-priest teams.
You can sign up for our school, join one of our many street evangelization teams, start your own team, or simply, with our help, start evangelizing in the circumstances of your everyday life.
For Individuals & Small Groups
Online School of Evangelization
Onsite School of Evangelization
St. Paul Street Evangelization Teams
Seeker Small Group Program
Holy Rivals Club
St. Paul Society of Evangelists
Evangelization Store
Stories from the Street Podcast
For Parishes and Organizations
Training, Workshops, Retreats, and E-teams
10 Great Ways to be a Catholic Evangelist (free talk)
Basic Evangelization Training (1 day)
Healing in Evangelization Training (1 day)
Street Evangelization Team Training (1/2 day)
Entertaining Angels Hospitality Training (1 day)
The Upper Room Retreat (1 day)
Youth Encounter Training (1/2 day)
Keynote Talks & Breakouts (45 minutes – 1 hour)
Seeker Small Groups Program
Quick Start Guide to Evangelization
Basic Evangelization Training
Evangelical Apologetics
Team Leader Training
Fr. John Hardon's Basic Catholic Catechism Course
Healing in Evangelization Training
SENT: Practical Evangelization Training
Speakers including: Dr. Peter Wiliamson, Steve Ray, Dr. Ralph Martin, Sr. Ann Shields, Dr. Janet Smith, Fr. Chas Canoy, and more.
Free Team Training Guides
Free Downloadable Faith Brochures
Evangelization Handouts and Templates
Discounted Holy Medals
Discounted Holy Cards
Discounted Rosaries
Free Catholic Audio
Free Rosary Album Download
Regular New Resources