The St. Paul Evangelization Institute is home to three Catholic apostolates. The most well known apostolate is St. Paul Street Evangelization (SPSE). The other two are our school and our society.
St. Paul Street Evangelization is a grassroots, non-profit organization, dedicated to responding to the mandate of Jesus to preach the Gospel to all nations by taking the Catholic Faith to the streets. As an on-the-street Catholic evangelization organization, St. Paul Street Evangelization provides an avenue for people to share the Person of Jesus Christ and the truth and beauty of the Catholic Faith with a hungry culture.
We have hundreds of street teams with dedicated team leaders and evangelists who boldly proclaim the Gospel, pray for people they encounter, and build a bridge from the public square to the local parish.
We need your help!
These are unprecented times. We need your help! Please give a gift today to support the world of evangelization at a time of great urgency. Our teams and evangelists are still active, our schools are still operating, and we are still fully engaged in the work of sharing the Gospel, but donations are down. Donors receive full access to our online St. Paul School of Evangelization, free shipping and significant discounts in the store, and discounts on events. Even more importantly, please pray for us and join our newsletter to read stories from our teams delivered to your email every Wednesday.
Virtual School of Evangelization
In light of the global pandemic, we are now offering a 100% virtual St. Paul School of Evangelization on Tuesday's from 5:00 – 7:00 PM EST. You can also join our online school and go at your own pace with pre-recorded videos.
Our weekly School of Evangelization is designed to help ordinary Catholics become extraordinary evangelists in their own communities. 
Street Ministry Continues!
Our creative teams of evangelists are continuing to share the Good News in the streets all the while keeping a safe distance and following local and national guidelines. Learn more and support our teams today.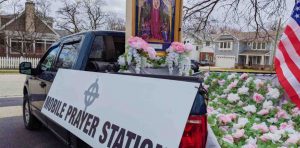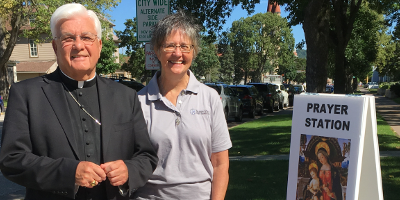 Our online school is designed to equip Catholics to learn more about their faith, and how to share it with others in a joyful non-confrontational manner. You can start taking classes, access online evangelization resources, and receive significant discounts on our store by becoming a Sustaining Partner today. Your gift allows us to operate hundreds street teams world-wide.
Resources Include:
Basic Evangelization Training

Healing Prayer Training

Catholic Hospitality Training

Fr. Hardon's Catechism Course

Team Leader Training

Downloadable Resources

Catholic Audio & Videos

+ Much more
Society, Evangelists & Partners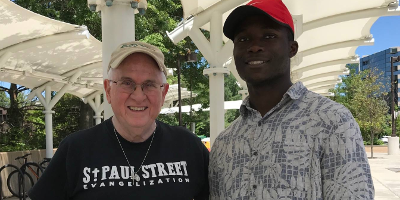 St. Paul Street Evangelization provides an opportunity for every Catholic to learn how to evangelize effectively, and put simple tools and methods into practice. We have volunteers who dedicate a few hours a week, regional missionaries who help lead evangelization efforts with their dioceses part time, and urban missionaries who dedicate themselves to the work of the apostolate full time. Our St. Paul Society of Evangelists are a group of brothers who have dedicated their entire lives to the work of evangelization and have discerned a call to a religious vocation.
Get started today by becoming a partner, enrolling in our school, taking online classes, and joining or starting your own street team!